Tampa Bay is an eclectic mix of parks, breweries, waterfront dining, impressive real estate, and pedestrian-friendly historic districts that are both charming and vibrant. Located on an inlet on the west coast of Florida, Tampa Bay is like metro Orlando's cooler, calmer, and more stylish older sister. The area's booming economic and financial districts makes it one of the best places to live in Florida.
Tampa Bay is a vibrant mix of single-family homes, luxury apartments, and waterfront real estate. Check out some of the best Tampa Bay suburbs for families, young professionals, retirees, and luxury real estate.
Best Tampa Bay Suburbs For Families
1) New Tampa
Rapid growth in the last decade has caused New Tampa to grow exponentially. There are always new neighborhoods popping up throughout the area, and families love the easy access to nature trails, parks and playgrounds. Families have a variety of public, private, charter, faith-based, and specialty schools to choose from in the New Tampa area. The median home price is $332,400.
New Tampa is known for its golf courses and the beautiful Lower Hillsborough Wilderness Preserve. This suburb is perfect for active families because it offers a variety of outdoor recreational activities such as tree climbing, zip-lining, and water-based activities.
View Homes For Sale In New Tampa
2) Carrollwood
Carrollwood is a mix of walking trails, public parks and playgrounds, locally-owned boutiques and quiet, affluent neighborhoods. Carrollwood was one of the first suburbs in the Tampa Bay area. It is well established and closer to downtown, the airport, and local restaurants than some of the newer suburbs. There are day spas, health and beauty stores, and tree-lined parks where residents exercise  in the mornings or golf in the afternoon. The median home price in Carrollwood is $315,500.
Many residents spend the second Saturday of the month browsing the North Tampa Market, a monthly outdoor market showcasing local food, crafts, and live music. It is located behind the Carrollwood Cultural Center from 10 am until 2 pm. There's always something going on in the area.
View Homes For Sale In Carrollwood
3) Safety Harbor
Safety Harbor is a quiet Tampa suburb with mature shade trees, waterfront parks, fishing piers, food truck events, live music venues, and trendy brunch places. On the weekends, families have picnics in Philippe Park, shop in Downtown Safety Harbor, or spend the day on the Gulf. The Market on Main is an open-air shopping experience where residents can browse local vendors, listen to live music, and connect with their community. There are quiet, well-established middle-class neighborhoods like North Bay Hills and newer communities like Park Heights. The median home price in Safety Harbor is $297,300.
Safety Harbor is home to the only mineral spa resort in Florida. The Safety Harbor Resort and Spa opened in 1925 and was once believed to be the place that Ponce de Leon called the Fountain of Youth. In 1947 the Safety Harbor Resort and Spa was named a historic landmark, and now the resort boasts a 50,000 square foot spa and 172 luxury guest suites. This is a beautiful waterfront venue perfect for weddings, meetings, and award-winning spa services.
View Homes For Sale In Safety Harbor
4) Fishhawk
Fishhawk is where arts and culture meet modern conveniences and high-end services. The fact that it has excellent schools and affordable real estate makes it a magnet for families on Florida's west coast. Fishhawk has an abundance of walking trails, public parks and playgrounds, and other recreational activities. Fishhawk has a busy social calendar, giving residents plenty of ways to connect, such as food truck events, outdoor markets, live music events, and community 5k races. The median home price in Fish Hawk is $313,000.
Fish Hawk is an excellent place for foodies. It is home to unique restaurants such as The Scrambled Egg and The Brunchery. There are a handful of breweries, locally-owned coffee shops like Cool Beans Coffee Shop, and fine dining establishments on the water. Whether you are looking for a family-friendly restaurant where kids can burn off their energy on a playground, or a romantic date night restaurant, you can find it in FishHawk.
View Homes For Sale in FishHawk
5) Wesley Chapel
Wesley Chapel has grown significantly in the last decade. It has two highly ranked middle schools and two high schools, and over 30% of the families here have children. The Shops of Wiregrass is a popular outdoor mall with high-end retail shops and restaurants, and there is an outstanding and innovative new hospital, Florida Hospital Wesley Chapel. Families love that it has an incredible youth sports program and an active Chamber of Commerce. Wesley Chapel is also home to luxury communities like Epperson, a brand new community featuring a 7.5 acre Crystal Lagoon surrounded by sandy white beaches — perfect for Florida fun! The median home price in Wesley Chapel is $293,800.
Because Wesley Chapel is such a family-focused suburb, there's always something to do during the week and on the weekends for people of all ages. Residents attend open-air markets on the weekends and participate in evening yoga on the lawn at the Shops of Wiregrass. There are concerts, art festivals, wine tastings, Touch-A-Truck events, and seasonal parties that the whole family can enjoy.
View Homes For Sale in Wesley Chapel
Best Tampa Suburbs For Young Professionals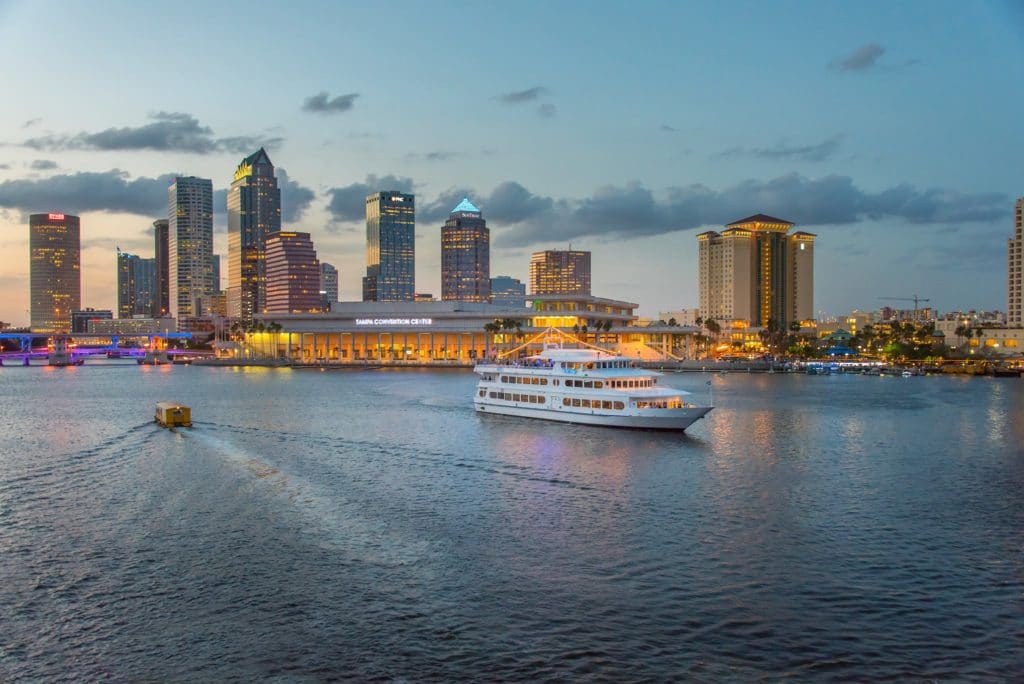 From art and business to finance and education, Tampa Bay is a fantastic place for young adults.
1) Downtown St. Petersburg
There's no better place to network than Downtown St Petersburg. Young professionals can live, work, and play right in the heart of the city. In the last decade or so, Downtown St Pete has been revamped with luxury apartments and condos that allow young professionals to live close to where they work. Busy professionals can swing home on their lunch breaks, or meet potential clients for happy hour in some of the city's coolest hangout spots. On the weekends, Downtown St Petersburg turns into a vibrant and exciting nighttime destination, a place where many young professionals want to spend their free time. The median home value in downtown St. Pete is $328,900.
Downtown St Petersburg is located right on the water. Here, residents can spend the mornings doing paddleboard yoga, head to work, and then spend their evenings browsing art galleries, working up a sweat on one of the city's many running trails, or meet up with other dog lovers in downtown St. Pete's popular dog park.
View Homes For Sale In Downtown St. Petersburg
2) Ybor
Ybor City has a rich history and a story to tell. It offers a traditional neighborhood feel, with brick streets and locally-owned restaurants and boutiques that have been part of Ybor's history for decades. When it comes to real estate, young professionals in Ybor City can pick from condos and apartments, townhouses and newly constructed residential buildings. Everyone wants to live as close to 7th Street as possible, to be close to all the events and activities that bring life and light to Ybor City. You can even get to downtown Tampa by jumping on a streetcar!
When you think of Ybor, you may think of Tampa Bay's iconic cigar Factory. The J.C Newman Cigar Company is the last-standing cigar company in Ybor and located in the Ybor City Landmark District. This Landmark District is popular for young professionals as it offers networking events, wine tastings, coffee clubs, and an open-air market on the weekends.
View Homes For Sale In Ybor City
3) Channelside
Sometimes referred to as Channel District, residents here have easy access to downtown and a lot of options for newly constructed condos and townhomes. It is also a popular option for those who want to be close to Ybor's historic district. One of the most popular features of the Channelside area is Sparkman Wharf. As Tampa Bay's newest outdoor waterfront destination, Sparkman Wharf features waterfront dining, boutique shopping, live music, and craft breweries. For professionals looking for their own unique office space, Sparkman Wharf offers innovative and waterfront loft-style workspaces. The median home price in the channel district is $318,900.
For Tampa Bay residents that are looking for luxury waterfront real estate, Eleve61 is already causing a buzz in the local real estate market. Currently in the pre-construction stages, this modern and boutique condo will only feature 61 luxury units overlooking the water. Set to be completed in 2021, this high-end luxury condominium complex will be where the who's who of Tampa Bay call home.
View Homes For Sale In Channelside
4) Seminole Heights
Busy families love Seminole Heights and Riverside Heights because of the easy access to downtown Tampa along with countless restaurants, shopping venues, and outdoor recreational activities. The two communities are adjacent to each other, but there are larger homes and lots in Riverside Heights. Schools rank above average, and there is plenty to do on the weekends such as explore the local parks, browse art and culture museums, and enjoy live music at Ella's Americana Folk Art Cafe. The median home price in the Riverside Heights is $299,100 and $280,800 in Seminole Heights.
Riverside Heights is minutes from Armature Works; a historical industrial building turned entertainment complex that features a public market, social halls, restaurants, and workspaces. Once the storage and maintenance facility for Tampa streetcars in the early 1900s, this revamped social space has changed the way people work, eat, and socialize in Tampa area. It has quickly become one of the hottest new venues in Tampa. It also provides a gateway to Tampa's Riverwalk.
View Homes For Sale In Seminole Heights
Best Tampa Suburbs To Retire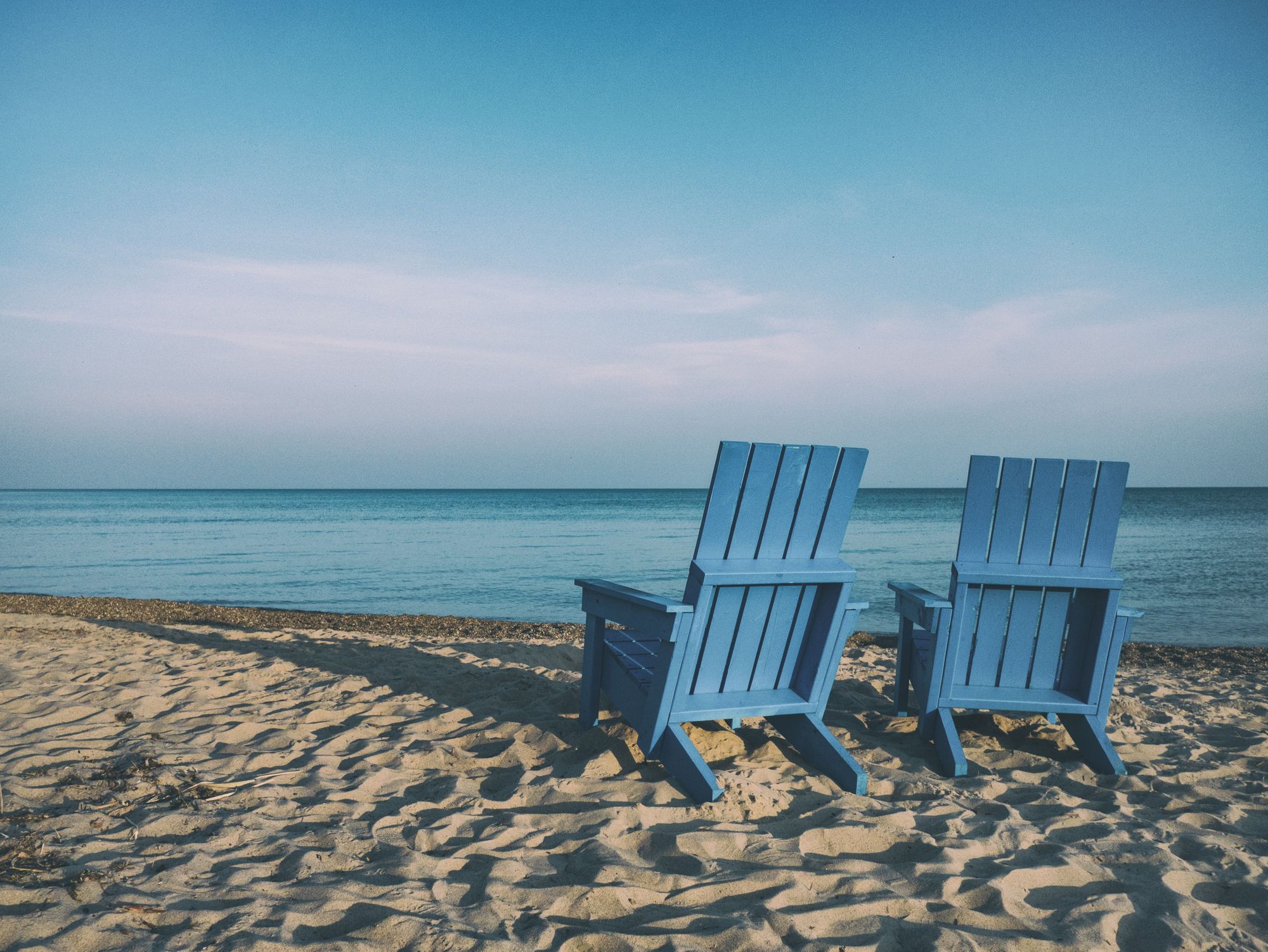 Dunedin
Dunedin has been named one of America's 100 best places to retire. Dunedin has 5 miles of gorgeous shoreline, a beautiful marina, and an impressively low crime rate. While the cost of living is about 10% above the national average, Dunedin is a popular retirement destination because of its slow-paced lifestyle, locally-owned restaurants and boutiques, and a very pedestrian-friendly atmosphere. While Dunedin is home to many festivals and events, it is also a quiet and peaceful waterfront suburb that is perfect for slow-paced living. When it comes to Dunedin real estate, there are luxury condos, well-established single-family homes, and a variety of active adult communities with resort-style amenities. The median home price in Dunedin is $329,800.
Many seniors in Dunedin frequent the Hale Senior Activity Center which is operated by the city and offers an extensive calendar of programs for those 50 and over. No membership required!
View Homes For Sale in Dunedin
Tarpon Springs
Tarpon Springs is split into two areas. There is the main downtown area with its charming sidewalk boutiques and locally-owned restaurants. There's also the waterfront area. The median age of Tarpon Springs residents is 48, and there are many active adult and 55+ communities in the area, too. Tarpon Springs used to be an old sponge fishing town, and many signs of that era still decorate the neighborhood today. The median home price in Tarpon Springs is $341,100.
Every summer, Tarpon Springs hosts its annual Opa! Palooza, a festival is designed to celebrate Greek heritage. Admission and parking are free, and there are food trucks with authentic Greek food and pastries. There is live dancing, workshops, and a kids play area. It's a very exciting and highly-anticipated event each year.
View Homes For Sale In Tarpon Springs
New Port Richey
New Port Richey could easily fit on any of the lists in this comprehensive guide. It is great for families and young professionals and is also a top retirement destination. New Port Richey has a little bit of everything. Although a little further out in the Tampa Bay Area, New Port Richey has a diverse population and plenty of things to do. This suburb is known for its public parks, gorgeous boardwalks, and expansive outdoor recreational areas. While the crime rate is slightly higher some  suburbs, New Port Richey is the perfect blend of nature and entertainment. The median home price here is $278,600.
For seniors that like to stay active and connected with their community, New Port Richey offers a packed calendar of events all year long. Retirees can spend their weekends at BBQ festivals, craft festivals, live music events, boat shows, and food truck rallies. There is always something going on here.
View Homes For Sale In New Port Richey
Redington Beach / Redington Shores
If you dream of spending your retirement years with your toes in the sand, you may want to consider buying property in Redington Beach or Redington Shores. These may be more expensive Tampa Bay suburbs, but they boasts beautiful views, waterfront dining venues, boutique shops and the chance to enjoy the waterfront lifestyle. Just take a short drive through Redington Beach and you will find spacious loft-style apartments, adorable cottages built in the 1950s, and sprawling multimillion-dollar mansions on the water.
Redington Beach and Redington Shores are less expensive than the nearby but well-regarded Clearwater Beach and Belleair Shores area. Many retirees choose Redington Beach because of its beautiful views and diverse real estate.
View Homes For Sale In Redington Beach / Redington Shores
Best Tampa Suburbs For Luxury Homes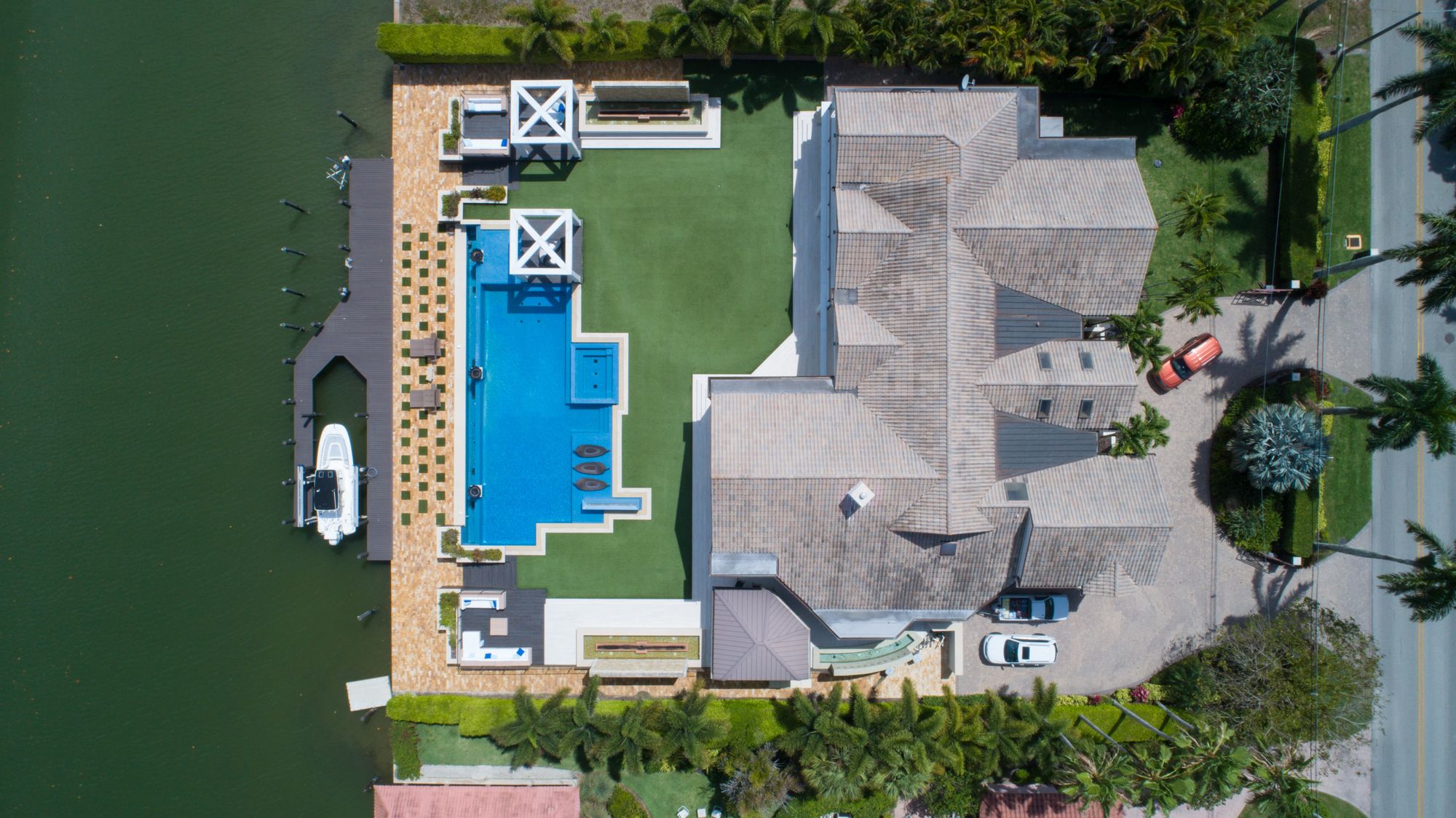 If you've been waiting decades to live in your dream home, retiring in Tampa Bay may give you the opportunity to live the life you worked so hard for. If you are looking for luxury homes in the Tampa Bay Area, look no further than South Tampa or Davis Island.
South Tampa
South Tampa really does have it all. From highly-ranked schools to low crime rates and breathtaking real estate, this affluent suburb is ideal for those looking for luxury, space, and privacy. Two of the most popular areas for luxury homes in the Tampa Bay area are Bayshore and Palma Ceia.
Everything is more expensive in the Bayshore area, but it's wealthy and successful residents don't seem to mind. Here you can easily find multimillion-dollar mansions on the water and countless amenities that appeal to families, busy professionals, and retirees.
Palma Ceia has a median household income of over $110,000, and residents live in million-dollar estates on tree-lined streets.. Great schools, low crime, and easy access to some of Tampa Bay's hottest amenities make this one of the area's hottest suburbs. The median home price in Bayshore is $651,600, and in Palma Ceia, it is $642,200.
View Homes For Sale In South Tampa
Davis Island
Quiet, unassuming, and unbelievably luxurious, Davis Island is where celebrities and pro athletes build million-dollar estates on the water. Celebrities like Derek Jeter and John Travolta have owned homes on or near Davis Island, and this affluent suburb consistently ranks as one of Florida's best places to live. When you are driving to Davis Island you'll notice canopy of oak trees, charming sidewalk boutiques, public parks, and sidewalk cafes. Mansions line the water's edge and residents walk, jog, skate, and push strollers through the tree-lined streets of the island.
Davis Island is sometimes referred to as the self-sustaining island because it has everything residents need in one compact place. Davis Island has its own grocery store, hospital, medical offices, and schools. It is a tight-knit community where people know each other, and mom-and-pop stores thrive. The median home price on Davis Island is $921,200, which is substantially higher than the average home price in Florida.
View Homes For Sale In Davis Island
Conclusion: Life Is Better In Tampa Bay
The beautiful thing about Tampa Bay is that it offers everyone a chance to experience the waterfront lifestyle. Whether you are a first-time home buyer looking for an apartment near downtown, or a retiree ready to spend the next chapter of your life in luxury, Tampa Bay has something for everyone.
It is a booming economic city with a vibrant entertainment district, and the warm and sunny year-long weather adds to its appeal. Rich in history and continually growing and changing, Tampa Bay is easily one of the best places to live in Florida.