If you're a current homeowner in Georgia, then you probably learned about buyer closing costs in Georgia when you initially purchased your home.
As a homebuyer, closing costs include these like lender origination fees, title insurance and transfer taxes which often adds up to about 2% to 3% of the sales price of your home.
So, Now You're Selling Your Home
Home sellers have closing costs too. On the selling side, you'll be on the hook for closings costs again that can range anywhere between 5% to 9% of the sales price. These will include things like pro-rated property taxes and real estate commissions that you'll now be on the hook for as the seller and will make the total cost much higher.
Here's an in-depth look at the closing costs you should expect to pay when selling your home in Georgia.
How Much are Seller Closing Costs in Georgia?
Though all of the taxes, fees, lender charges and insurance add up, generally neither the buyer or seller pays 100% of all the closing costs.
💡
Typically, the seller will pay between 5% to 9% of the sales price and the buyer will pay between 3% to 4% in closing costs.
It's good to note however, that even though you may avoid the bulk of closing costs, you as the seller will still have to cover realtor commission costs which can add on as much as 6%. This includes an average of 3% paid to the listing agent and another 3% paid to the buyer's agent.
What's included in Georgia closing costs for both the buyer and the seller?
While certain closing cost categories are assigned to the buyer or seller, other closing costs are negotiable. So it's important to be familiar with all of them in case your buyer requests you pay a portion of their closing costs.
Below, we have listed some of the most common closing costs in Georgia and how much you can expect them to be.
Common Georgia Seller Closing Costs:
Real Estate Agent Commission – typically 6% of the sales price: Assuming you intend to hire a Realtor and the buyer also engages an agent to purchase your home, you'll be responsible for paying both of them at closing. This amount can differ greatly from one agent to another, but it is typically 3% for each agent in Georgia. You can reduce this cost by 2% if you sell with an Atlanta-based SimpleShowing agent for a 1% listing fee.
Outstanding amounts owed on the property: You'll be responsible for any unsettled payments on your home that can include HOA fees (homeowner's association) and utility bills. All of these extraneous costs will be prorated to your closing date.
Prorated Property Taxes: Property taxes in Georgia are paid in arrears. You'll owe property taxes for the portion of the year you owned the house (be it 30 days or 300 days).  They'll be prorated based on the number of days you owned the home, so the amount you owe will be much higher for a November closing than one in early January (300 days vs. 30 days). Note: If your current mortgage payment includes an estimated amount for property taxes that they collect and put in "escrow", then each month you should be able to get your escrow balance back after closing.
Municipal Lien Search – $100 to $200: The municipal lien search looks into unrecorded property issues that aren't shown in a typical title search, such as code violations, water/sewer/solid waste balances, and open or expired permits, to name a few. The cost varies by municipality.
HOA Clearance letter – typically $200 to $500: This letter certifies how much you owe the HOA. It includes your monthly dues, as well as any special assessments, past dues, fines or other fees. The title company must confirm that you are in good standing with the HOA and current on all your dues before they can give clear title on the home.
Documentary Stamps on the Deed – varies with price of the home: Also called a "transfer tax", this tax is paid to your local county when the deed is recorded.
Common Georgia Buyer Closing Costs
Depending on the transaction and deal terms, the home buyer will occasionally try to negotiate that you as the seller pay a portion of their closing costs. This is negotiable and you can reject this request.
Generally, a homebuyer will ask for a dollar amount in the initial offer, or they'll ask for a dollar amount to be paid in lieu of repairs. While it may seem counterintuitive to even consider paying for the buyer's closing costs, helping out the buyer can actually work to your benefit.
By paying for the buyer's closing costs or even a portion of those costs, you'll help ensure the sale of your home goes through smoothly. Buyers are saddled with the bulk of expenses in a real estate transaction — from the down payment and mortgage payments to property taxes and homeowner's insurance, so they can feel a financial strain.
Paying for some buyer closing costs can relieve the financial pressure on the buyer and provide them with enough financial cushion to sign on the dotted line.
How to Calculate Closing Costs in Georgia
So how much will you actually pay in closing costs for your home in Georgia?
To figure out a rough estimate of the amount you will pay, simply multiply the expected sales price of your home by the typical closing cost percentage of 7%.
For example, the current median home value in Georgia is $323,026. If you multiply this by the typical closing cost percentage (7%), you'll find that the closing costs on an average home in Georgia will cost the seller about $22,611.
How to Reduce Seller Closings Costs
The best way to reduce your closing costs by a significant amount is to reduce the real estate agent commission.
Remember as the seller, you'll be responsible for paying all commission costs — both your agent's commission and the buyer's agent's commission. Typically, the standard commission rate is 6% of the home's sale price in Georgia.
For a home selling at the state's median sales price of $334,526, with a 6% average Georgia real estate commission, you'll be paying $20,071 in commission.
Don't pay 6% in Realtor commissions
If those fees seem high, you'll want to explore all your options on how you can reduce the costs of selling your home and keep as much equity as possible at the time of closing.
With SimpleShowing, an Atlanta based real estate brokerage, you can sell your home with an experienced, full-service local agent for a 1% listing fee versus the typical 3% listing fee with a big brokerage like Keller Williams.
If you were to sell a home for $400,000 you'd save 2% in Realtor fees and profit $8,000 more with a SimpleShowing agent.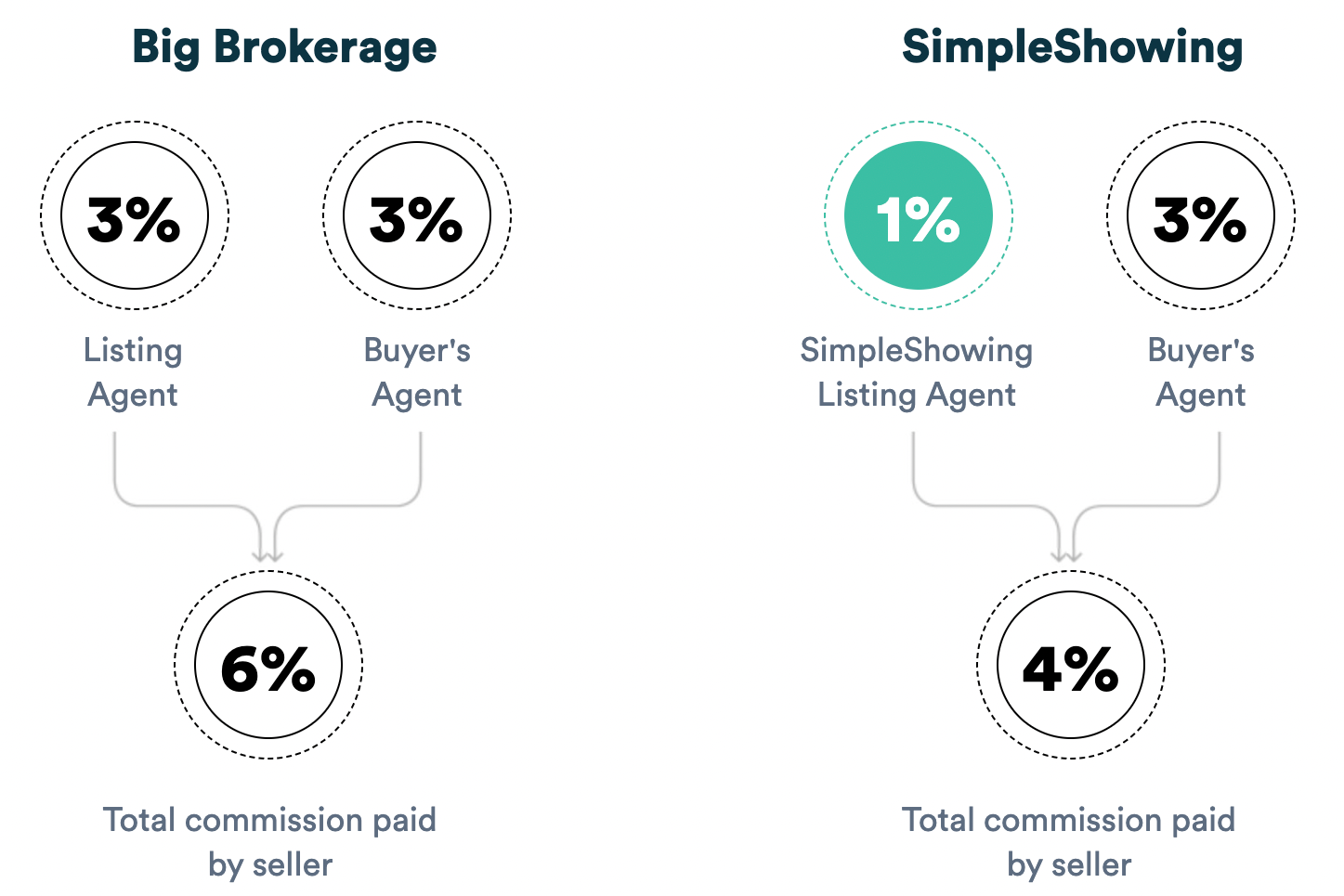 A SimpleShowing agent can show you how to save thousands in realtor fees if you're selling in Georgia. Contact us to get in touch with a SimpleShowing agent in your area.
Get a Free, Online Home Valuation
Get started today with a free home value estimate through SimpleShowing.