SimpleShowing vs. Redfin vs. the Traditional Real Estate Broker: How Do They Compare?

Most Americans would agree that technology has forever changed the way we do business. With the most recent disruptions in the real estate industry from companies like SimpleShowing and Redfin, technology is changing the way consumers buy and sell homes for the better. Buyers are transforming the way they shop for and purchase homes—and they now have choices. Gone are the days when you were forced to employ a traditional, full service real estate broker that you didn't feel was necessary. Now, you can choose the level of support you need to suit your specific buying or selling needs. In this blog, we'll show you the comparisons and differences between newer options such as SimpleShowing, Redfin, and the traditional real estate broker.
Three Companies with Three Approaches
SimpleShowing, Redfin, and  traditional brokers like Mark Spain share many similarities—and probably equally as many differences.
At SimpleShowing, we provide consumers a team-based approach using advanced technology along with our staff of full-service agents. On the buyer's side of things, we use a refund model and take the middleman out of tour scheduling by providing users the ability to schedule showings and view listings on our website. When you're ready to buy a house, we function like a traditional broker, begin the negotiations for you and handle all of the paperwork through closing. On the sell side, SimpleShowing pairs you with a full-service agent and lists your home for a 1% listing fee.
Redfin is similar to SimpleShowing in that they also provide a technology-based approach while still incorporating human interaction when needed. Redfin utilizes a refund model on the buy side as well. However, the average Redfin Refund is 3x smaller than the average SimpleShowing Refund. On the sell side, Redfin offers a 1-1.5% listing fee depending on your location and if you also buy through them.
Traditional brokerages like Mark Spain Real Estate or Keller Williams provide a more traditional model where Agents are forced to use their network to find leads and mainly work individually with those clients. Most traditional brokerages operate at a 3% commission model for both sellers and buyers while offering no refund on the buy side.
The Buying Process
As mentioned above, current homebuyers have more options than ever for the route they can take when buying a home. Gone are the days where your only option is to find an agent before you can start the home buying process. Now, you can start your search and book tours online. Plus, you can save thousands in fees and earn money back through special programs found with companies like SimpleShowing or Redfin.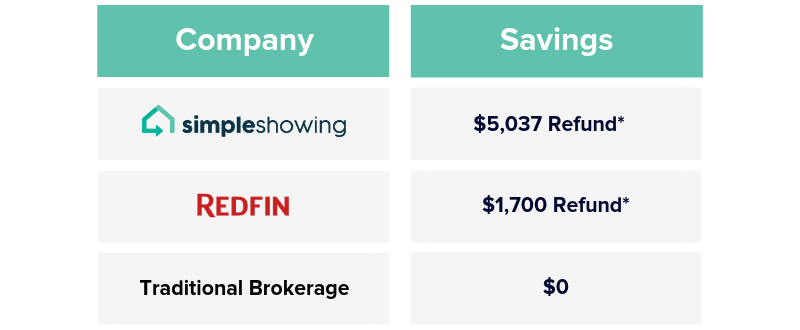 SimpleShowing
One of the great benefits of SimpleShowing is our Buyer Refund Program. This program allows the buyer to get a check for up to half of their Agent's commission at closing. On average, the refund amounts to $5,037. The amount of the refund is based on the purchase price and how many homes you tour. Because many homebuyers are finding homes on their own online and negating a lot of the work in the home search process, SimpleShowing feels its' buyers deserve to keep half of the commission for their hard work. To view full details of the refund, click here.
In addition to the refund, you can also book home tours as little as 3 hours in advance at simpleshowing.com. Now, you don't have to hunt down a Realtor or wait for their schedule to clear to access a property. As a buyer, you can go to our website to easily schedule a showing at a time and date that works best for you.
Redfin
Redfin offers similar incentives for buyers in that they also offer a "Redfin Refund'. The Redfin Refund program allows buyers to receive part of the commission that their Redfin Agent receives. The refund amount is based on the asking price of the house, and typically is around $1,700 that gets applied to closing costs. If the savings happen to be higher than the closing costs, then they will provide a check for the difference.The Redfin Refund tends to be 3x smaller than the average SimpleShowing Refund of $5,037.
Like SimpleShowing, Redfin allows you to book tours online. All you have to do is find a home you are interested in buying and access the Redfin app to schedule a tour.
Traditional Real Estate Brokerage
Typically,  commission rates are 6% of the home's sale price, with roughly 3% going to the seller's agent and 3% going to the buyers' agent. For the traditional broker like Mark Spain Real Estate or Keller Williams, a home with a $300k price tag would equate to $15,000 in commission—or $7,500 to each agent. This is a substantial amount of money. By and large, the traditional real estate brokerage model does not offer any refunds in the buying process. But given that the agents don't get paid until you buy a home, they are vested in helping you quickly and creatively find your ideal home.
The Selling Process
As a seller, it's also smart to look into all the different ways you can save money on realtor commissions. One popular approach to avoid agent commissions is "For Sale By Owner". However, this approach can be tough as you are representing yourself. If you are looking for representation, it's essential to do your research and find out which agency will help your specific situation and save you the most money possible while still getting the job done right.

SimpleShowing
At SimpleShowing, we strive to give sellers a break and offer an affordable listing fee. This 1% listing fee includes all the services of a traditional agency but at a fraction of the cost. So, this means you get to save thousands of dollars in commissions ($7,500 on average) while keeping more of your home's equity. You also may be eligible for a special discount if your home is valued at less than $350,000. The SimpleShowing Listing Fee does not include buyer's agent commission which can be 2.5%-3% of the purchase price.
Redfin
Redfin also offers an alternative option to pay less in listing fees when you sell your home. With Redfin, the seller pays a 1.5% listing fee and then agrees to pay a commission to a buyer's agent (typically 2.5%-3%). Redfin does offer a 1% listing fee in some markets, but it is subject to you also buying a home with their team within 360 days of closing.
Traditional Real Estate Brokerage
By and large, a traditional real estate agent's livelihood depends on the commission he or she makes from the sale of your home. So, very few special deals or incentives are offered by these types of firms. The typical cost to list with a traditional brokerage is 3% of the home's sale price plus the buyer's agent commission of 2.5%-3%.
Larger agencies, like Mark Spain Real Estate, may offer some type of incentive, but it typically doesn't result in a significant savings. For example, Mark Spain has a program called Guaranteed Offer on Your Home. This program is designed to provide you, as the seller, with options and control over the process while letting you bypass showings, open houses, and the negotiation process. The idea is that you will have a cash offer in 21 days, however, there is strict criteria that results in many people being excluded from the program.
Agent Support Available
SimpleShowing
At SimpleShowing, we offer all the services that you'd expect from a traditional agent with a goal to provide high quality service throughout the buying or selling process. If you're buying, your Agent will work to ensure your absolute satisfaction starting with your first tour, while negotiating the best price, until the keys to your new home are in your hands. If you're selling, your agent will offer expert pricing assistance and market your listing to get your home sold fast and for the highest price. Overall, we do everything that a traditional agent does except charge full commission. In addition to your SimpleShowing Agent, you'll have 24/7 access to a dedicated support team that can be reached by phone or online chat via our website.
Redfin
Redfin employs a well-diversified staff which includes real estate brokers and agents. These agents provide exactly the same services as a traditional brokerage but are paid by salary as opposed to commission. They also earn bonuses based on customer satisfaction. Redfin initially avoided assigning specific agents to specific buyers, but over time, has moved towards assigning staff that will stick with their client throughout the process.
Traditional Real Estate Brokerage
Whether buying or selling, a traditional real estate brokerage like—Mark Spain—will provide you with a dedicated Agent to guide you through the entire process.  If selling, they will typically help you list your home and market it through closing. When buying, they will show you prospective homes and help you put in an offer when you're ready. These agents tend to be everything you'd expect from a typical agent, but they will charge full commission.
Consumers are lucky these days to have options when buying or selling a home because one size doesn't necessarily fit all. Whether you are a go-getter that loves to research online, or someone that prefers to have it taken care of for them, everyone now has the option to find a company that fits them perfectly.
To learn more about discounted commission, check out these articles: