Materials, Styles and Types of Installation
Gone are the days when builders would install asphalt shingles on 100% of their new construction residential properties. Today we see more and more metal roofs across North America and across varying climates - including warm weather states like Florida and California, as well as in cold weather states like Wisconsin and Vermont.
Updating an existing roof with a metal roof allows you to add value to your home and communicate your home's style. While roof framing and pitch could dictate which type of metal material you ultimately choose, the product you install can bring the exterior of your home to an entirely new level.
Average Cost
The cost of materials for metal roofing products are typically slightly higher than asphalt roof shingles, on a per square foot basis. For example, the median price per square foot for a typical "three-tab" fiberglass, asphalt shingle is about $1.90/sf, while an upgraded "architectural" asphalt shingle typically costs closer to $2.75/sf.
If you compare these figures to metal, you'll generally see a slightly higher price per foot. For example, basic, builder-grade metal roofing can cost as low as $3 per square foot, but higher end metals like copper can cost as much as $25 per square foot. That being said, most metal roofs you see today, and many of the styles covered below, are generally priced lower than $5 per square foot.
In addition, the labor cost to install a new metal roof is roughly $2.00 to $7.00 per square foot, depending on your local market and the type of metal roofing that's being installed.
Types of Metal Roofs
Standing Seam Steel Roof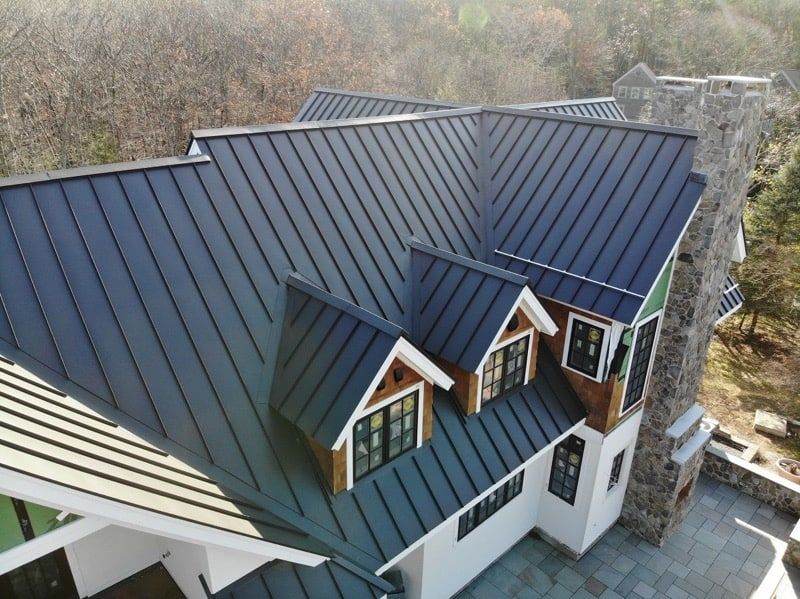 "Standing seam" systems have no exposed screws, making them the most weathertight and mostly maintenance-free. Standing seam is a good choice for luxury residential projects but often have higher labor costs for installation.
Standing seam products have become an elegant way to either add accent to a porch or patio, or for replacing entire roofs. They're manufactured by numerous roofing companies and available in various colors.
Exposed Fastener Steel Roof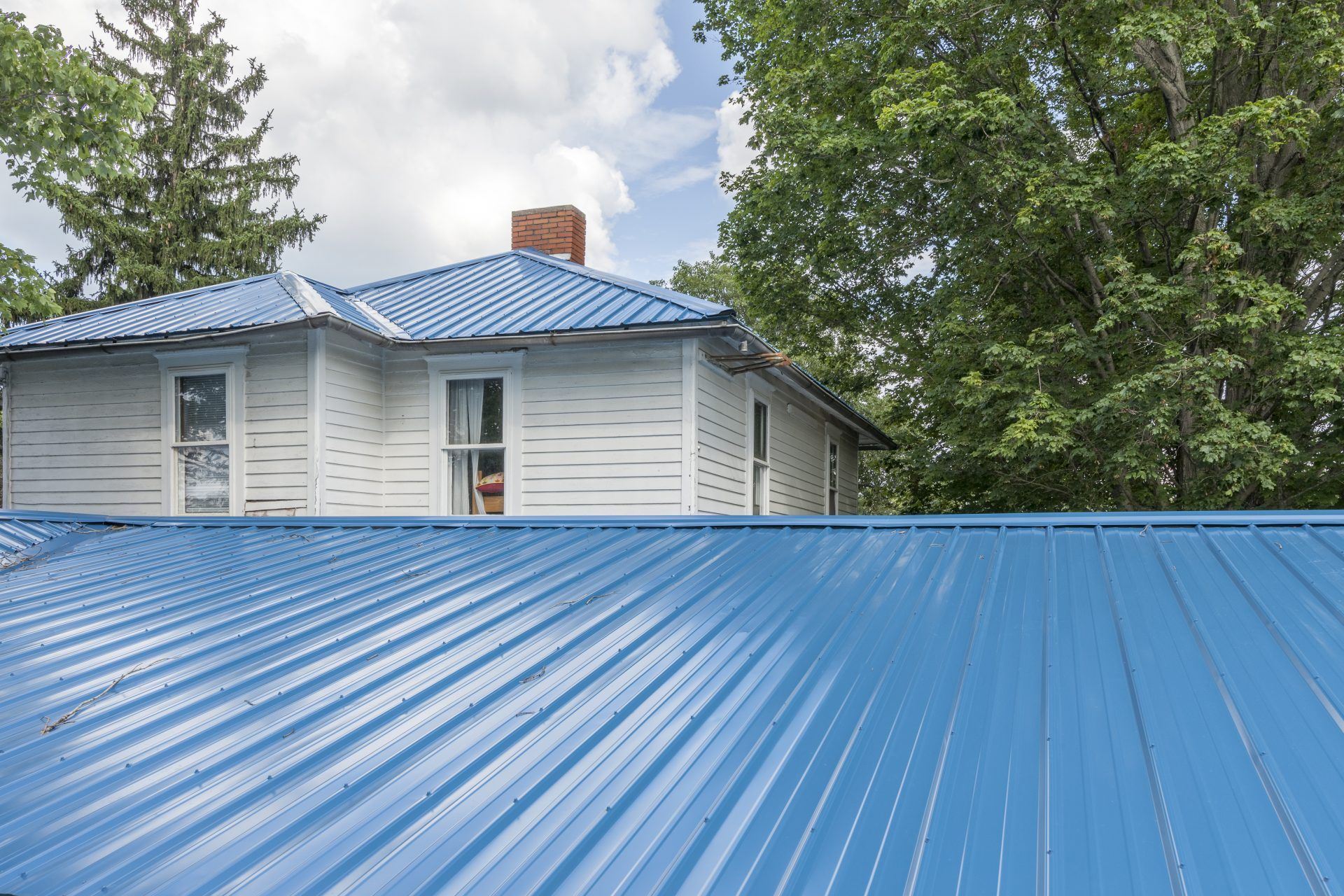 The most commonly used metal for residential properties and is typically available in 24 or 26 gauge steel panels. The higher the gauge number, the thinner the metal. Exposed fastener panels are available in various styles, such as:
Corrugated (3/4" ribbed)
3-foot wide exposed fastener
5V Crimp
As with standing seam, exposed fastener roofs are available in various painted finishes. For example, a light silver color is popular in Florida while dark brown/matte black is often seen in Colorado and throughout parts of Arizona.
Aluminum Roofing
Aluminum roofing panels are a great, lightweight material for residential properties. It is very common in coastal markets in places like Florida, South Carolina, Louisiana, etc. The main benefit of aluminum roofing sheets is that they have a greater corrosion resistance versus steel roofing panels.
An aluminum roof typically cost more than a standard, metal roof described earlier in the article. Aluminum roofing panels are available for purchase in a painted finish or a primed finish that is paintable. The strength to weight ratio of aluminum is actually higher than many other types of metals, which results in strong product that weighs less than other material.
Copper metal roofing
Copper is another popular choice for residential accent and less commonly for entire roof replacements. Instead of gauges like steel, copper comes in ounces. 16-ounce copper is the most commonly used.
While copper is a great upgrade to a roof, it's also quite expensive. That being said, once installed, it requires very little maintenance and has up to a 75 year lifespan.
Benefits of Metal Roofs
They Boost Energy Efficient
Metal roofs are an excellent choice for optimizing energy consumption. A recent study found that metal roofs offer a 40% reduction in energy costs in the summer. These roofs can run 40 to 50 degrees cooler than dark asphalt shingles.
They Increase Your Home Value
The upfront costs of installing metal roofing can be pricey but adding one could increase your home's value by about 4% to 5%.
They're Eco-Friendly
Metal roofs are 100% recyclable material and environmentally-speaking are a better option than asphalt.
Metal Roofs Last a Long Time
Metal roofs could last 2-3 times longer than asphalt. A metal roof will last about 40 to 70 years, versus asphalt roofs that last about 15 to 22 years.
They're Elegant and Attractive
Metal roofs make your home stand out and provide a crisp, sharp look that gives it a gorgeous curb appeal.
Questions to consider with metal roofing
Does the material meet the building codes in your local area?
How heavy is this material and will it require additional framing?
What type of warranty is available?
Are multiple colors available?
Is special, ongoing maintenance required?
Does this material provide performance in extreme weather conditions?
What is the cost and lifespan?
Conclusion
Choosing the right roofing material for your home is crucial, and among the plethora of options available today, metal roofing materials stand out for their longevity, durability, and aesthetic appeal. Standing seam metal roofing, in particular, has become a popular choice among homeowners for its sleek appearance and unmatched performance. Standing seam metal roofs not only offer a contemporary look but also provide long-term protection against the elements. On the other hand, metal shingles, metal tile roofing, and metal panels offer a blend of traditional aesthetics with the advantages of metal durability. For those looking for an elegant touch, a copper roof might be the perfect fit, blending timeless beauty with endurance.
When comparing standing seam roofs to other roofing materials, it's evident that they offer unique benefits in terms of maintenance, energy efficiency, and design versatility. While there are numerous roofing materials on the market, standing seam metal roof systems offer homeowners a sustainable and stylish choice that stands the test of time. So, whether you're looking for the durability of metal panels, the refinement of a copper roof, or the distinctiveness of metal shingles, metal roofing materials provide options that can cater to varied tastes and requirements. Choose wisely, and your roof will not only protect your home but also elevate its curb appeal.