It's common knowledge that real estate agents make a commission percentage from the sale or purchase of a home. But rates can be negotiated and vary based on the broker, the price point of the home, the market and other factors.

Keep reading for a detailed explanation of how commission fees work, answers to common commission questions, and various ways sellers and home buyers can save on commission rates and closing costs.

What is the Standard Commission Percentage?

While the total amount of commission that agents receive is based on a percentage, the exact percentage varies across markets. Nationally, home sellers can generally expect to pay about 5.75% of a home's final sales price in total commissions.
In many markets, a total commission of 5.25% or even 5.0% is common, while other markets may see 6% across the board. Whether it's 5%, 6% or somewhere in between, the final amount is typically split between the listing agent and buyer agent and represents the median commission rate in the US. Each agent then pays a "split" to the sponsoring broker, depending on the compensation structure of the brokerage.
Nationwide, most big, national brokerages charge a total 6% commission rate.

In this structure, the listing agent will keep half of the proceeds (typically between 2.5% and 3%), and then give the other half of the proceeds to the buyer's agent.
Say you sold your home for $300,000 and worked with a listing agent with a 6% commission fee. After the sale of the home, your listing agent would earn $18,000 back in commissions. That profit would then be split with the buyer's agent leaving each with $9,000 in profits.

As mentioned, it should be noted that while the national average for commission percentages sits between 5% and 6%, that is not necessarily the case for all agents. Some may charge higher and others lower. Some independent brokerages, such as SimpleShowing, offer sellers a low 1% listing fee. Do your research and shop around to find an agent whose commission model works best for you.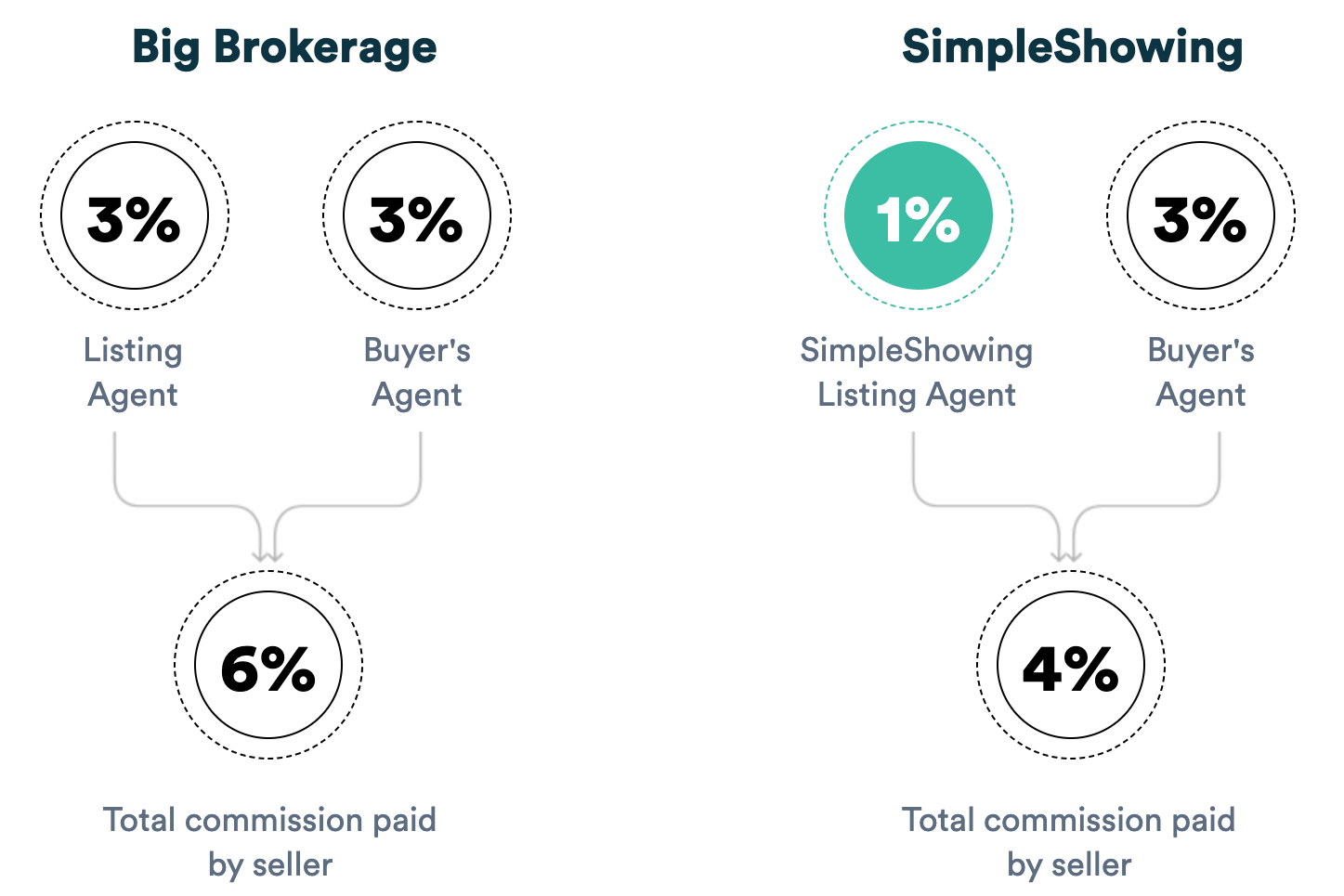 Who Pays the Agents?
Generally, real estate agents are paid by the seller. This money comes out of the proceeds generated from the sale of the home. The full 5-6% commission of the home is combined for simplicity. The listing agent will keep a portion of the profits while the other portion is given to the buyer's agent.
Generally, the split is 50-50, meaning the listing agent keeps half of the total commission and buyer's agent keeps the other half. For example, if the total commission is 5%, each agent would receive 2.5% of the final sales price of the home. For a $600,000 property, this would be $15,000 for each agent.
You might be wondering "why would the seller pay the fee for the buyer agent?" While it may initially seem strange that the seller would pay both, it's important to note that it's a bit more nuanced than it sounds. The buyer agent's commission fee is factored into the listed price of the home.
In other words, if there was no buyer agent involved, it's feasible that the home seller might sell the home for 2-3% less than the asking price, since they wouldn't have to compensate a buyer agent.
If you sell your home for $500,000 and pay a total of 6% in commission, you will actually only actually receive $470,000 back after you pay the agent commissions (excluding other possible closing costs).

Do Realtors Keep the Full Commission?
As much as agents would love to receive their full portion of their sale, commission fees don't usually work that way. Agents rarely work independently, but instead through a brokerage. A brokerage refers to the company they represent and whose branding is on their advertising material. Brokerages provide support for the agent and pays for expenses associated with real estate transactions.

In return for all that they provide, agents are required to give a certain percentage of their commissions back to the brokers. This percentage is often 5%-20% of the commission received for large, national brands like Keller Williams and ReMax. This percentage could vary depending on how long the agent has been working with the brokerage or if the agent has "capped" out by paying the broker a predefined amount. On the other hand, there are brokerages where the agent gets to keep 100% of your commission and own your brand.

Can You Negotiate Realtor Commissions?
While Realtors certainly deserve compensation for the work they do, keep in mind that most of the time you can negotiate the commission rate with your agent or find ways to lower or offset the commission fees.
In some situations, sellers may be able to negotiate commission percentages. This includes when home sellers using the same agent to sell their current home and then again buy a new one - similar to a loyalty discount.
Some agents also give discounted rates to repeat clients and investors that buy/sell multiple properties.
Another scenario that represents an opportunity to save on commission is when there is only one agent involved during a home sale. For example, if you are selling your home and the buyer does not bring an agent into the transaction, only one agent is involved. This represents an opportunity to potentially save up to 3% (or half the total commission).  
Lastly, many buyer agents will kick back a portion of the commission to the home buyer their clients in the form of a consumer rebate - which is surprisingly encouraged by the United States DOJ. In this scenario, savvy home buyers could get rewarded with a commission refund for performing showings on their own or leveraging the agent on a limited basis.

Try Independent Brokers like SimpleShowing
If you simply want to save money on the sale or purchase of your home, a low commission real estate agent might be your best bet.

With SimpleShowing, sellers save thousands with a 1% listing fee that automatically lowers total commission to just 4% instead of 6%. Not only that, but you will get the same exceptional service and features of a big firm brokerage.

If you're looking to buy a home, you are in luck too. With the SimpleShowing Buyer Refund, home buyers can also receive a portion of their agents commission at closing. Whether you are buying or selling, just imagine what you could do with that extra cash in your pocket. Contact SimpleShowing today to connect with a local agent.