Whether you're buying or selling a house in Georgia, you probably already know that there are a number of different costs involved.
If you're selling your home in Georgia, you'll unfortunately be paying a few thousand in Realtor commissions (more on that below), but you might also have to pay for a pre-sale inspection, home staging or just general updating and remodelling. If you add up all the seller paid closing costs, you may also be on the hook for prorated property taxes, remaining HOA dues or a home warranty for the buyer.
On the other side of the transaction, if you're buying a home in Georgia, you need to cover the down payment plus things like lender origination fees and title insurance.
But, whichever side of the transaction you're, both sellers and buyers need to be aware of one especially important cost involved: Realtor commissions!
Average Realtor Commission Rate in Georgia
According to the National Association of Realtors, nearly 90% of home sellers used a real estate agent to help them sell their homes in 2021.
The vast majority of those real estate agents charged their clients the same way, too - by flat commission rate based on the sales price of the home.
Just how much those clients were charged depends on the real estate agent and the brokerage. They might charge more because of a few things like 1) their experience level; 2) the price point of the homes; 4) because they specialize in serving a very specific clientele; or 5) even because of their specific brokerage model.
For the most part, though, the average national total real estate commission rate is 5.4%. So, if a home sells for $400,000, and the total commission rate is 5.4%, the seller would be responsible for paying $21,600 at closing.
The average total Realtor commission rate in Georgia is 5.8%.
The total commission fee in Georgia is slightly higher than the national average of 5.4%. Keep in mind, this includes both the listing agent fee and the buyer agent fee.
When average home prices were in the $200K range, 5-6% commission rates didn't seem so bad. But with the median home value exceeding $400,000 in Georgia, low-commission real estate agents are growing in popularity.
With tech-enabled discount agents, you can list your home for as low as 1% without sacrificing service or results. Because most homebuyers find homes online, many home sellers have questioned if their expensive listing agent are truly responsible for procuring the homebuyer and if their high fees are in line with the value delivered.
How Georgia Real Estate Agents Get Paid
If the agent works for a brokerage – and most do – they typically have to pay that broker for providing support, insurance, tech and contract guidance.
Some brokers charge their agents a flat fee per sale or even just a flat monthly fee. But, the majority charge a commission "split", which can range from 5-30% of what the agent made on a sale. So, although you may have to pay the agent $20,000, the agent might only keep $18,000.
What Real Estate Agent Do
One could easily argue that agent commissions are too high in Georgia. And while the commission rates are slightly higher than the national average, keep in mind that the agent doesn't earn a dime until your house is sold. Which means the agent will be doing juggling a lot of tasks to prep, price and market your home.
Here's a list of the core services provided in exchange for nearly 6% commission:
List home on local MLS (Multiple Listing Service)
Pre-listing pricing evaluation or "comparable market analysis"
Professional photography
Contract negotiation, including amendments and addendum
Property disclosure docs
Negotiate home inspection findings
Provide lockbox and yard sign
Fortunately, you can drastically reduce your real estate commission expense in Georgia by choosing a brokerage like SimpleShowing  - which only charges 1% to sell. Or, if you're buying looking for an agent who offers a discounted or rebated commission or "Homebuyer Refund".
How to Keep the Real Estate Commission in Georgia to a Minimum
Founded in 2018, SimpleShowing is a local, Atlanta-based brokerage that has sold more than 1,000 homes in Georgia. See how we compare against the "big brokerages" like Keller Williams and ReMax.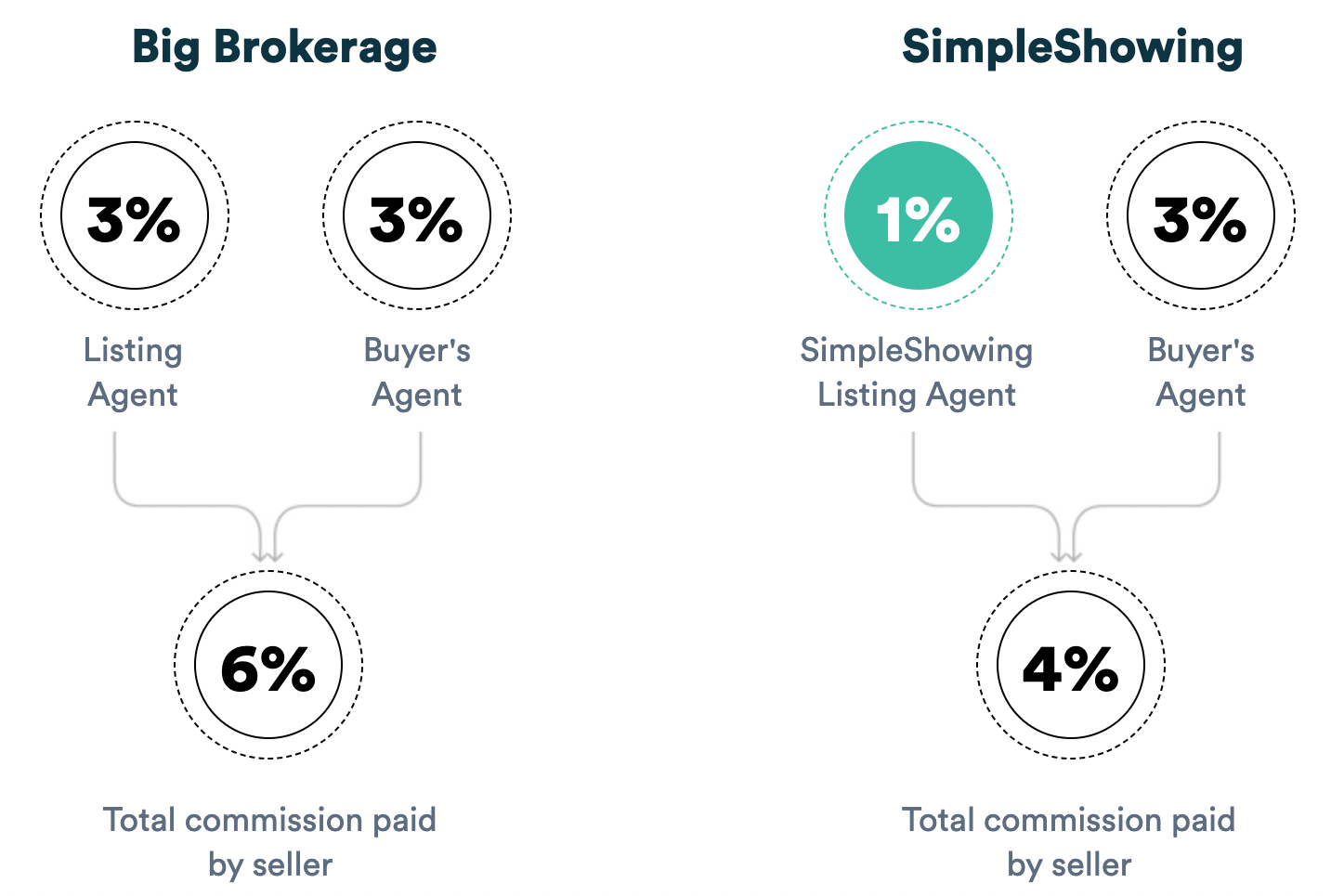 Contact us today to learn all about how you can save more thousands in Realtor commissions when selling your home in Georgia. If you're planning to buy a home in the state, learn more about the top places to live in Georgia.