Atlanta is known across the country as one of the most affordable cities in the United States. However, not all areas in this metropolitan area are as affordable as the others.
With so much of your hard-earned money on the line, it might be best to start your home search by checking out these 9 affordable Atlanta suburbs. You may be surprised to find that you have some great options!
Determine your Budget Before You Start Your Home Search in Atlanta
The median national home price has been rising in the last year.
Financial experts say to try to make sure your monthly mortgage payment is no more than 25% of your take-home pay. They also say you should try to put down at least 10% – but 20% is even better!
You may want to live in the city or the suburbs. However, once you start your home search you might change your mind about where you actually want to be.
Why Should You Consider Living in the Atlanta Suburbs?
Considering the suburbs of any major city is a great idea when trying to make the most out of your budget since home prices are usually more affordable outside the metro area.
The national median home price in most major cities has gone up about 9% year-over-year while suburban home prices only went up 6%.
Recent data shows that many people living in expensive cities such as San Francisco and New York are looking for homes in more affordable locations that still offer major city life, like Atlanta.
In addition, affordable Atlanta suburbs have become a major player in the housing market. They can offer a homebuyer even more for their money!
It's important to remember to check the cost of living in an area in order to compare how much it costs to live in one place versus another. This will reveal how far your money will go in different areas. These calculations should include housing prices for renters and utility costs for homeowners (electric, natural gas, and oil).
Shortage of Homes for Sale
One of the biggest factors affecting home affordability is a shortage of homes for sale. Housing inventory levels across the country are down this year compared with last year.
Remember the law of supply and demand tells us that low inventory increases competition over the homes that are available, which drives up the price.
There's a chance you'll be up against other buyers in your same position when looking for a home in the Atlanta suburbs.
Here are 9 Affordable Atlanta Suburbs To Consider
1. Woodstock
Woodstock is a historic city located in Cherokee County, Georgia, just 30 miles north of Atlanta. Originally founded in 1897, the city has a rich history that includes the establishment of a cotton mill and the construction of a railroad line in the early 1900s. Today, Woodstock is a vibrant community with a thriving downtown area, excellent schools, and plenty of recreational opportunities, including hiking and fishing.
The city has seen significant growth in recent years, with a population that has nearly doubled since 2000. This growth has also led to an increase in home values, with the median home price in Woodstock currently around $325,000. Despite the rising prices, Woodstock remains an affordable option compared to many other cities in the Atlanta metro area, making it an attractive destination for families, young professionals, and retirees alike. With its combination of history, natural beauty, and modern amenities, Woodstock is a great place to call home.
2. Dawsonville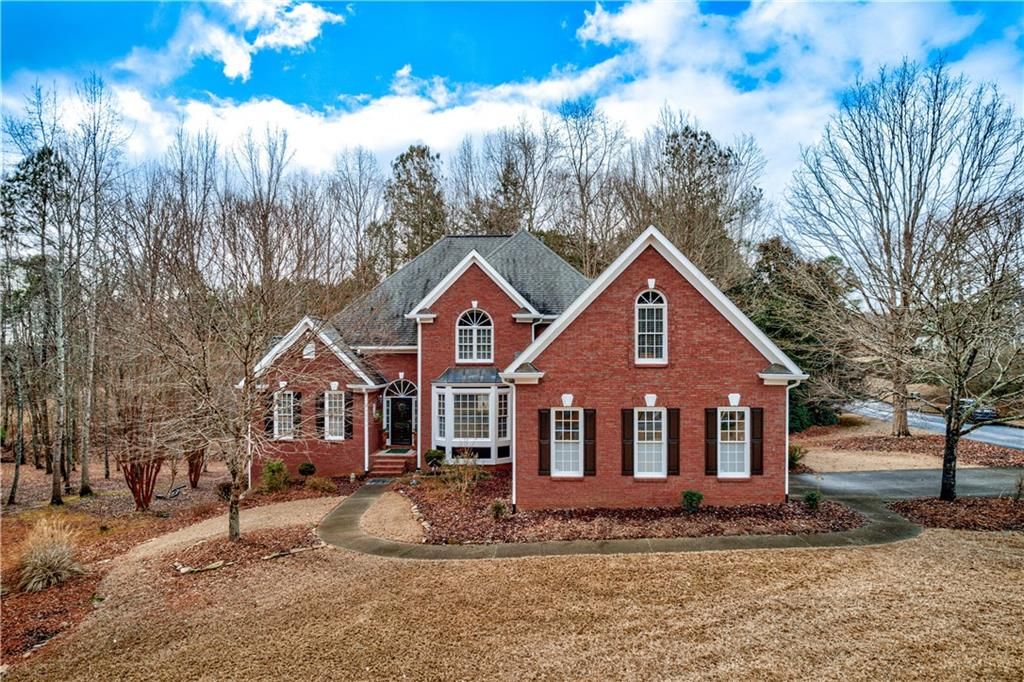 Located just north of Atlanta along Georgia's Hospitality Highway, Dawsonville is a charming town with plenty of attractions for visitors to enjoy. Some of the top highlights include:
Southern Terminus of the Appalachian Trail: Dawsonville is home to the southern endpoint of the 2,146-mile long Appalachian Trail, making it a popular spot for hikers and outdoor enthusiasts.
Amicalola Falls State Park: This beautiful park features a stunning 729-foot waterfall that drops into a reflection pool, offering breathtaking views for visitors to enjoy.
In the autumn months, Dawsonville comes alive with Uncle Shuck's and Buck's Corn Mazes, where visitors can get lost in the maze or pick out the perfect pumpkin at Burt's Farm or Bradley's Pumpkin Patch.
3. Peachtree City
Peachtree City is a planned community south of Atlanta. It's described as a golf cart community. Two-thirds of its residents own a golf cart. The New York Times said in a feature about the town, "Kids drive them to school (no driver's license is required), seniors who have given up their cars drive their carts to the doctor and shopping". The town was voted "best affordable suburb" in 2009.
4. Newnan
Newnan is a charming city located in Coweta County, Georgia, approximately 40 miles southwest of Atlanta. The city was founded in 1828 and has a rich history that includes the Civil War and the establishment of a thriving textile industry in the late 1800s. Today, Newnan is a bustling community with a vibrant downtown area, numerous parks and recreational facilities, and excellent schools.
Over the years, Newnan has become a popular destination for families and young professionals, with a diverse range of housing options available at affordable prices. The median home value in Newnan is around $280,000, making it an attractive option for those looking to buy a home in the Atlanta metro area. The city has also seen significant growth in recent years, with a population that has nearly doubled since 2000.
Despite its growth, Newnan has managed to maintain its small-town charm and strong sense of community, making it a great place to call home. Whether you're looking for history, culture, outdoor recreation, or just a great place to raise a family, Newnan has something for everyone.
5. Senoia
Senoia Georgia is known worldwide for its television and cinematic successes. A popular television series The Walking Dead is filmed in Senoia. Some residents welcome tourists who come to catch a shooting of the show, while others see it as a negative.
Senoia has an interesting history as it was formed in 1825 by Chief William McIntosh who was killed soon after by his fellow Indians. In 1828 a large number of people from Newberry, South Carolina, came to the land to make a fresh start. Many artifacts can be found in Senoia's Historical Society Museum. The median home price in Senoia is $254,000. It is located about 35 minutes south of Atlanta in Coweta County Georgia.
6. Marietta
The median home price in Marietta is $290,700. Marietta has a very quaint town square, great shopping, and local restaurants. It has been called a great place to raise a family. Marietta is one of Atlanta's largest suburbs. Its located 30 minutes from downtown Atlanta. Marietta maintains a relatively low cost of living even though it has very high-quality housing options.
7. Powder Springs
Powder Springs Georgia is home to the popular Silver Comet Trail. Multiple parks are interconnected by the city trail system. A new downtown park featuring an amphitheater began construction in 2019. Powder Springs is in Cobb County, Georgia, and has a population of about 15,000. Powder Springs is an affordable suburb of Atlanta with great prices on housing. It is 30 minutes from downtown Atlanta.
8. Cartersville
Cartersville, Georgia is located within the northwest edge of the Atlanta metropolitan area. It is about 45 minutes away from downtown Atlanta. The average price of a 2 bedroom single family home in Cartersville is $233,000.
9. Stone Mountain
Stone Mountain is a place with many median income neighborhoods. As with other neighborhoods around the Atlanta area, driving just five miles in any direction can make a change in your surroundings and home prices. Stone Mountain has some old colonial homes that have been transformed into townhomes as well as large southern style homes with big wrap-around porches.
For More Information
Are you looking to call the Atlanta suburbs home? If so, SimpleShowing is here to help. Our experienced agents are knowledgeable of the metro Atlanta area. With their help, you will be sure to find the home of your dreams and save money through our Buyer Refund Program. Contact us today to learn more!
Conclusion
When searching for the most affordable Atlanta suburbs, areas like East Atlanta Village offer a unique blend of proximity to Atlanta's city center and the charm of affordable neighborhoods. These suburbs provide the perfect balance for those looking to enjoy the vibrant culture and amenities of Atlanta without the high costs associated with city living. With tree-lined streets, local businesses, and a friendly community vibe, suburbs like College Park stand out as some of the most affordable options. Whether you're part of the growing Atlanta population looking for a quiet neighborhood within walking distance of city limits, or a new resident seeking the cheapest neighborhood with easy access to the city, these suburbs offer an ideal solution.
Moreover, the Atlanta suburbs highlighted in this article are not just about affordability; they embody a lifestyle that many desire. From the historic allure of College Park to the bustling streets of East Atlanta Village, each suburb offers a unique experience. These areas boast a blend of modern amenities and traditional southern charm, making them attractive to a diverse range of people. Whether you're a young professional, a growing family, or someone seeking a peaceful retirement, Atlanta's suburbs provide a perfect backdrop for your life. By choosing one of these neighborhoods, you're not just finding a cost-effective living solution; you're becoming part of a community that values its residents and their quality of life.